Snafu Greeting Cards makes funny wholesale greeting cards for retailers who love to hear their customers laugh-out-loud! Humorous, real paper greeting cards with hilarious sayings playing off funny cartoon images.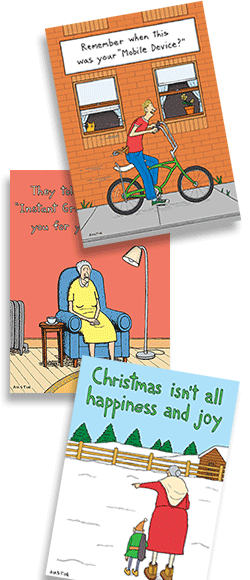 Welcome! If you like to carry humorous or alternative greeting cards, we offer more than 200 hilarious greeting cards that are sure to make your customers laugh out loud! Our cards are perfectly designed for unique and original gift and card stores just like yours!
Unlike the bulk of wholesale greeting card companies and suppliers found online, Snafu is one of the few greeting card manufacturers providing a quality wholesale card line for stores and gift shops. You can order our wholesale greeting cards in half-dozen or full dozen packs, with or without a display.
Our site was updated in late 2017. If you had created an account on our old site, you will need to create a new account here. That way you can view past orders, manage billing and shipping addresses and update your information. If you need help, please call us at 1-800-766-5786.
If you are looking to buy just a few individual Snafu greeting cards, please visit our consumer site, SnafuCards.com.
Again, welcome!